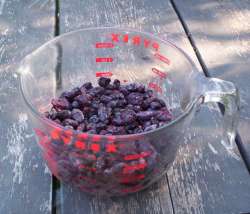 Some like 'em Sweet, Some like 'em Sour!
Honeyberry, haskap, edible blue honeysuckle - whatever name it goes by, this fascinating fruit varies in taste from variety to variety, and even the same plant will vary from year to year depending upon moisture, sunlight, and soil conditions.
As people also have individual taste preferences, some will like the tarter jam, while others will prefer the sweeter jelly. A Japanese company selected the University of Saskatchewan Borealis berry as the best tasting of 43 samples (www.fruit.usask.ca/haskap.html) but the mixture of Russian berries used in many of the recipes shown below produced quite delicious results as well.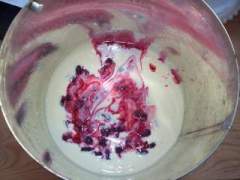 The Dairy Connection
Dairy products complement honeyberries very nicely. Whether it is jam and cheese on bread, or an ice cream smoothie, the dairy-honeyberry connection is a good match.

When the juice is mixed with with other ingredients, a brilliant reddish pink color is produced, possibly contributing to a subliminal impression that one is eating a mixture of raspberries and cherries! The thin skin of the honeyberry seems to melt in one's mouth, and is also easily broken down upon blending. For chunks of more intense flavor, leave some pieces of berries intact. For a more subtle flavor, blend berries completely.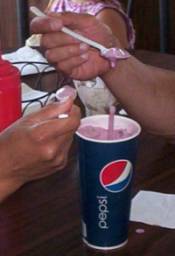 Honeyberry Milkshake/Malt
I took a sample of berries to our local Dairyland one hot summer day and asked them to make up a custom malt for me. Just to be sure I wasn't biased about the incredible flavor, I asked the family at the table next to me if they would do a taste test for me (it's a small town!). I knew it really was good when they followed me home to buy some plants for themselves!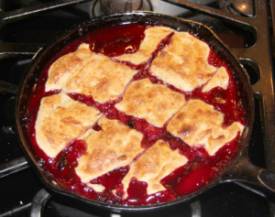 Honeyberry Peach Pan Dowdy
Honeyberries are native to North Americal, but very small and pretty hard to find, so when cookbook author Teresa Marrone contacted us about the possibility of getting some berries for her next edition, we were happy to share our limited supply of frozen berries. Teresa came up with a pan dowdy recipe, along with instructions for a yummy baked brie (a pastry filled with honeyberries and brie cheese) both which will are featured in "Cooking with Wild Berries & Fruits of the Rocky Mountain States" available at Northern Trails Press. She also had great success whipping up a honeyberry smoothie, making syrup and jam, and incorporating the tangy tidbits in a carrot cake (cake and jam are also featured in her book).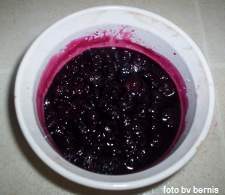 Baked with Blueberries
Honeyberries have such a rich flavor that "toning them down" with a half and half mixture of blueberries is a delicious option. The zest of the honeyberries livens up the bland blueberries, and the blueberries tone down the rich tartness of the honeyberry. For each cup of berries, add 1/4 cup of sugar or to taste. Evaporated cane sugar was used in this sample.

Honeyberries tend to cook down with more liquid than blueberries so additional thickening or cooking may be desired.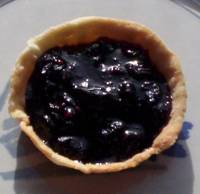 Honeyberry Tarts Honeyberry Pie
Drain half the juice off frozen berries. Heat berries and remaining juice in saucepan, adding 1/4 c sugar and 1 1/2 T minute tapioca/cup berries. Cook on medium heat, stirring until thickened. Pour into prepared tart or pie shells. Top w/ ice cream or whipped cream!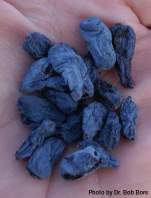 Dehydrated Honeyberries
Dried honeyberries have a lovely chewy texture that reminds me of soft raisins but their thin skin maintains that "melt in the mouth" feature. Dr. Bob Bors from the University of Saskatchewan found some naturally dried berries still attached to their plants in October, and they maintained their beautiful blue color! When the berries are heated they turn a darker color. Read more about Dr. Bob's dehydrated haskap (honeyberries) here. Note: I tried dehydrating a mixture of berries at home and think I need some tips - they tasted good, but did not maintain as much body as shown in this pic and took twice as long to dry as the fruit jerky (leather).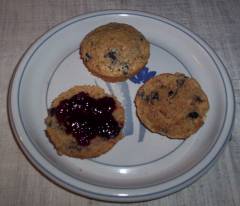 Dried Honeyberry Muffins
Dried honeyberries cooked up very nicely in the muffins, providing a subtly tangy flavor but not overpowering in any way. I think dried honeyberries will cook up great in any recipe!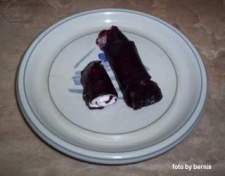 Fruit Jerky / Fruit Leather
I experimented with:
* Honeyberry & blueberry (2/3 c sugar to 1 c berries but could sweeten with much less).
* Honeyberry & strawberry (unsweetened - tart like rhubarb).
* Blueberry (sweetened).
* Honeyberry & honey (1/4 c honey to 1 c berries).

Personal favorites: Sweetened honeyberry & blueberry - this combination maintained a hint of blueberry but with a lively tang to it. The honeyberry and honey was delicious as well.

Pictured are two fruit roll-ups, one with cream cheese and the other plain. I prefer the plain but I can see how there is room for creativity such as with the cream cheese.

Instructions: 7 hours at 130F. Lightly coat trays with coconut oil to prevent sticking.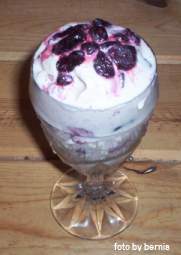 Ice Cream
6 large egg yolks, slightly beaten
1 cup sugar
1/2 teaspoon salt
2 cups 2% milk
2 cups heavy whipping cream
2 teaspoons vanilla extract
1 c honeyberries

In a heavy saucepan, combine the first four ingredients. Cook over medium-low heat, stirring constantly, just until it is about to boil. Remove from heat; add cream, vanilla and honeyberries. Cover and refrigerate overnight. Follow instructions that come with your ice cream maker. Serve and top with berries.

Notes
* Frozen berries may be used, but the berries themselves have an intense flavor, so you may want to chop them into small pieces. For stronger flavor and color throughout ice cream, thaw and blend berries in blender first, leaving "chunks" of berries as desired.
* This recipe even worked without a ice-cream maker, by setting the covered container (with refrigerator-cooled mixture) outside at 0 F (-18 C) for three hours and stirring only once!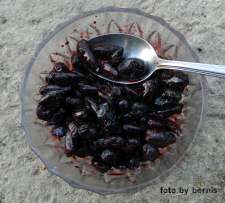 Frozen Mini-Pops

INGREDIENTS - Frozen honeyberries
DIRECTIONS - Wash and freeze berries. Remove from freezer and spoon into dish. Eat. Enjoy.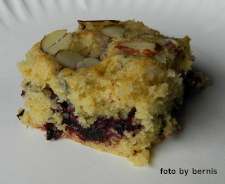 Honeyberry Coffee Cake

INGREDIENTS - 1 1/2 cups all purpose flour, 1/4 cup sugar (evaporated cane sugar), 2 1/2 teaspoons baking powder, 1/2 teaspoon salt, 1/4 teaspoon ground allspice, 1/3 cup melted butter, 1 large egg, 2/3 cup milk, 3/4 cup honeyberry jam
TOPPING - 1/4 cup firmly packed brown sugar (or evaporated cane sugar), 2 tablespoons flour, 1 tablespoon butter, 1/4 cup sliced almonds (sprinkled last)
DIRECTIONS - HEAT oven to 400F. Spray 8- or 9-inch square baking pan with no-stick cooking spray. Lightly spoon flour into measuring cup; level off. COMBINE flour, sugar, baking powder, salt and allspice in medium bowl. Add butter, egg and milk. Mix vigorously until well blended. POUR half of batter into prepared pan; spread preserves evenly over batter. Top with remaining batter. COMBINE topping ingredients; mix until crumbly. Sprinkle over top of coffee cake. Bake 20 to 25 minutes or until toothpick inserted in center comes out clean. Adapted from Smucker's blueberry coffee cake recipe.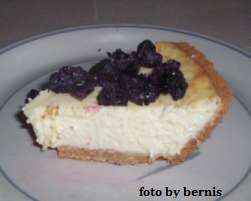 Cheesecake
The berries that I dehydrated were still on the moist side so I stuck them in the fridge and a month later worked great as a topping for cheesecake. This particular recipe uses yogurt instead of sour cream, so combined with the berries is a pretty healthy as well as extremely tasty dessert, or breakfast, or snack (you get the idea!) See recipe for details - but note that you don't even need Greek style yogurt - any plain yogurt works fine for me!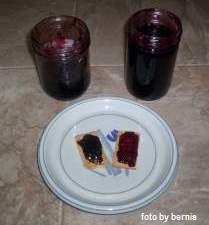 Jam & Jelly
Honeyberry jam has a very distinctive, rich flavor. The skin of the berries contributes tartness and dark purple-blue color to the healthy spread. I started out using 3/4 cup sugar per cup of berries, boiled for 10-20 minutes, and no additional pectin was needed. Since cutting back on our sugar intake, we find that 1 cup sugar to 6 cups of frozen berries (4 cups mashed berries) is sweet enough. This yields 5 cups of jam. I use 1 tsp of Pomona's Universal Pectin to thicken it. Additional pectin is needed for a thicker consistency. Pomona's full instructions can be found here (use directions for blueberries). Or you can try making your own pectin from green apples!

Honeyberry jelly is sweeter than the jam as the berry skins have been removed, and has a lighter purple color. The jelly has a tang to it similar to raspberry jelly.

Many thanks to Clayton and Marg Wiebe of Blue Honeysuckle blog for allowing me to purchase jam, jelly and frozen berries from them when I first heard about edible blue honeysuckle (honeyberries). And for a great detailed description of how to make Honeyberry (Haskap) Jam, check out All Our Fingers in the Pie!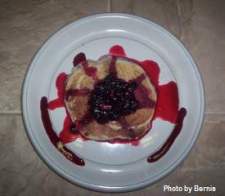 Pancakes
How can something so healthy taste so good? Berries in the batter and baked berries on top of this whole wheat pancake started my morning off with a gourmet flair. Only thing missing was a dab of whipped cream to top it off! As berry juice tinted the batter I thought "Wouldn't kids have fun making Purple Pancakes?!"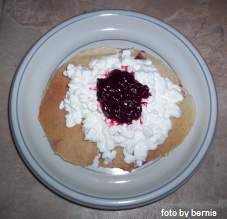 Pancakes Plus
Crave some extra protein with your pancake? Try a portion of cottage cheese under a dallop of honeyberry preserves! And I'll let you in on a secret - I didn't oil my dehydrating trays and one tray was impossible to pry off, so I just added water, let it sit overnight, and a yummy topping was ready for my pancakes the next morning!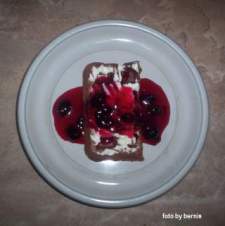 Waffles
This sauce tastes superb over whole grain waffles:

1/4 cup sugar
2 Tablespoons cornstarch
1 cup water
1 cup honeyberries
1 Tablespoon butter

cream cheese, softened

In saucepan, combine sugar and cornstarch; add water. Bring to a boil over medium heat; boil 3 minutes, stirring constantly. Stir in berries; reduce heat. Simmer 8 to 10 minutes. Stir in butter until melted. Spread waffle with cream cheese and broil until warm. Serve sauce over cream cheese and waffles. Note: I did not mix any berries into the batter as berries tend to burn in my waffle maker.