Cold Hardy Fruit Trees and Products for Sale

Please check our shipping dates
Restrictions
: State laws prohibit our shipping red, white, and pink Currants to North Carolina, New Hampshire, West Virginia. The Black Currants are prohibited in the states mentioned above, as well as Delaware, Maine, Massachusetts, Michigan, Ohio, and Rhode Island.
Delaware requires customer/importer to obtains a permit for red, white, and pink currants.
Maine prohibits red, white and pink currants in: Androscoggin, Cumberland, Hancock, Kennebec, Knox, Lincoln, Sagadahoc, Waldo.
Massachusetts requires a permit ssued by the Division of Crop & Pest Services (617-626-1801) for red, white and pink currants.
New Jersey requires the grower of black currants to purchase an annual permit with two annual inspections a year. New Jersey's requirements for red currant and gooseberry stipulate that neither species can be planted in Montague, Sandyston, Walpack and Vernon Townships in Sussex County; West Milford, Ringwood Borough and Wanaque Township in Passaic County, and Jefferson Township in Morris County.

Currants and gooseberries are generally self-fertile, and 5' width is a good rule of thumb. For more information, see www.fruit.cornell.edu, Organic Black Currant Production Manual and German Trial of approx. 200 cultivars (in German) with the help of Google Translate.
Ribes nigrum Ben series of black currants from the Mylnefield Research Station in Scotland, estimated to account for 50% of global production. Shipped plants are at least 4" tall and well rooted in 2.5" pots. USA Gardener recommends pruning the canes back to 2 buds to promote vigorous growth. See Organic Black Currant Production Manual for more information.

Ben Connan
This is an early variety of black currant with large berries that was released by Mylnefield specifically for the fresh market. It is high yielding and shows even and uniform ripening. It has large, deep black berries (187 Connan berries vs. 206 Lomond berries in 250 grams fruit) with a pleasant acid/sweet flavour. Of medium size, its compact growth habit makes it suitable for both mechanical fruit harvesting, u-pick farms and the home garden market. Great for fresh eating, jams, preserves, canning but needs to be harvested good and ripe for best sweetness. Low incidicence of infection to White Pine Blister Rust (WPBR). Not best suited for commercial juice production.


Ben Hope
Ben Hope is widely planted commercially in Britain for several reasons. It is a tall, vigorous and upright plant with genetic resistance to black currant gall mite. Fruit is easy to mechanically harvest since the plant is taller and the fruit is at the right height on the plant. Yields are consistently high with medium sized currants that are good for juicing. It has good resistance to both mildew and leaf spot. Ben Hope is also suited for the fresh market because of its larger berries and good flavour. It ripens in mid-season.


Ben Sarek
Another good cultivar for the fresh market with high yield and large berries. It forms a small, compact bush (3' tall) of medium vigour and would be suitable for the grower looking for high yield per unit area. Easy to manage and harvest. Early ripening. Fair resistance to White Pine Blister Rust. Not generally used with mechanical harvesting or for commercial juice operations.


Ben Tirran
This is a high yielding (15,100 lb/ac), late cultivar with pleasant tasting medium sized berries. It flowers a little later than other Ben series black currants so it has reasonable tolerance to spring frosts. Growth habit is upright and vigourous. Fruit is suitable for both juice and jams, for commercial and u-pick operations, and home gardens. Susceptible to WPBR but good resistance to mildew.


Tiben
Tiben is known for its high yield, high levels of anthocyanins and vitamin C as well as its even ripening, upright growth and resistence to mildew. It is reported to be relatively resistant to White Pine Blister Rust in Poland. In comparative yield studies it was shown that Tiben recorded higher yields than 'Ben Lomond' (both medium-late). 'Tiben' ('Titania' × 'Ben Nevis') also had strong growth and a resistance to powdery mildew [Sphaerotheca mors-uvae] similar to 'Titania' (from Organic Black Currant Production Manual

Gloire des Sablons Pink Currant
| | |
| --- | --- |
| | Ribes rubrum Produces long clusters of beautiful pink fruit. Productive, vigorous plant. Shipped plants are at least 5" tall and well rooted in 2.5" pots. |
Jonkeer Van Tets Red Currant
| | |
| --- | --- |
| <! | Ribes rubrum Jonkeer Van Tets Red Currant was introduced from Holland in 1941. An early bearing variety, it can be eaten fresh or processed into bright red jams or jellies. It is resistant to mildew, but blossoms may freeze during late frosts. USDA zones 3-7. |
Rovada Red Currant
| | |
| --- | --- |
| | Ribes rubrum Rovada was introduced from Holland in 1990. It produces heavy crops of large translucent berries born in long clusters. It can be eaten fresh or processed into sparkling red jams or jellies. |
White Pearl White Currant
| | |
| --- | --- |
| | Ribes rubrum These currants produce heavy clusters of white, translucent berries with a pink blush. Deliicious in jams or jellies, they can also be eaten fresh. |
Additional varieties (drop us a note and let us know what you're interested in):
:
black currant:
Chernaya Lisovanko
Russia mid season harvest
Consort early mid-season, medium-small berries, fair in productivity, susceptible to leaf spot and extremely susceptible to mildew, but resistant to WPBR.

pink currant:
Pink Champaigne

red currant:
Detvan Slovakia mid season harvest
Rolan Netherlands early season harvest
Roseta Netherlands mid season harvest
Rotet Netherlands mid season harvest
Tatran Slovakia 1985 late season harvest

white currant:
Blanka Slovakia late season harvest
Primus Slovakia cross of Heinemann's Rote Spatlese X Red Lake 1977 late season harvest
White Versailles France 1880s mid season harvest


GROWING NOTES

Plant into heavily composted soil. Currants are heavy feeders and do not do well in marginal soil. Keep the bushes well watered especially the first year, and mulching is beneficial. Higher yields when planted in full sun, but afternoon shade in warmer climates might be beneficial. Will also grow in full shade.

Currants are self-pollinating.

Currants only fruit on wood produced the previous year. After planting, cut the shoots down to leave about 2 buds above ground level. This will encourage a strong root system to develop. Do not cut away any shoots the following winter. In the third or fourth winter, cut some of the old wood out of the bush and any crossing or crowded shoots, to make room for new shoots the following year. As a general rule, it is best to cut out a third of the old wood each year, making the cut as close to the soil level as possible.

Gooseberries







<!
<!
<!
<!


Ribes Black Velvet, a Red Champagne Gooseberry x Worcesterberry (Ribes divaricatum from the Pacific northwest) cross. Grape sized fruit and impressive growth. Produces heavy yields of dark red fruit. Features outstanding flavor and a beautiful berry color. Complete resistance to mildew. Zones 4a-8b (but looking for reports on anyone who has tried them in zone 3).

Ribes Hinomaki Red This Hinnomaki cultivar from Finland is sweet and flavourful. Heavy crops of red medium sized fruit are borne on upright plants that have good mildew resistance.
Hinnomaki Yellow is unavailable this year, but drop us a note if you're interested.


Ribes Invicta is considered by some to be the best gooseberry available in North America. Originally from England, it produces very large green-yellow berries that can be eaten fresh when fully ripe, or used in pies, jams and jellies.

Ribes Jahn's Prairie This cultivar is an Alberta native! It was selected in 1984 by the late Dr. Otto Jahn from native gooseberries growing in the Red Deer river valley. Found to have good mildew and mold resistance, it produces large (3.8g) dark red fruit that are comparable to European dessert gooseberries.
Ribes Pests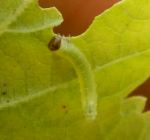 Green worms You may be able to get rid of them by using Castile soap. 1 tbsp per gallon of water. Spray on leaves (top and bottom) and the worms dry up. Might take a few applications. But it's a good cheap fix and doesn't burn the plants.